Building together
the nutrition of tomorrow
Whether you are a distributor of dietetic products intending to create and produce a range of products, or a food/dietary products manufacturer searching for a functional premix or nutritional ingredients, AIS is always "Your Smart Nutrition Partner"
Dietetic products

With our exclusive partner, a French company that has been a pioneer in the field of nutrition for 30 years, we offer you the opportunity to create your complete range of finished products, or to add products to an existing range in the field of weight control, balanced nutrition, sports nutrition or health and beauty supplements.

Supports
We offer you a fully integrated & customized service going from: your project analysis, ingredients sourcing, formulation, product development, regulatory advice, manufacturing and packaging, quality control (microbiological, physicochemical, sensory analysis), storage and delivery, to the market launch of your product including product registration, marketing & scientific tools essential to your success.
Innovation
20% of our partner's teams are dedicated to the development of your products, from engineer to PhD level. We create efficient products with scientifically validated health benefits and health claims. We invest constantly in basic nutrition research, in partnership with world-renowned research centers.
Functional premixes
Premixes are powder mixtures developed and validated by experienced doctors and engineers. They are precisely dosed, efficient, homogeneous and are customized to your needs. Our formulas can contain from two to dozens of functional ingredients which are strictly selected and controlled among references of vitamins, minerals, proteins, fibers, plant extract ... in dry form.

Opportunities
Our premix solutions can help you to differentiate your products and to open new markets. They are strong source of innovation to boost your sales: functional foods, dietary products (slimming, sports nutrition), dietary supplements, infant nutrition and bakery…
Our + premixes
30 years' experience in the formulation and blending of nutritional premixes solutions. We take care of the sourcing, supply and storage of all the necessary ingredients for blending.
Customization to your specific needs.
Development cycle
We accompany you and offer you suitable and viable solutions
from the development of your specifications to the delivery of
your finished product.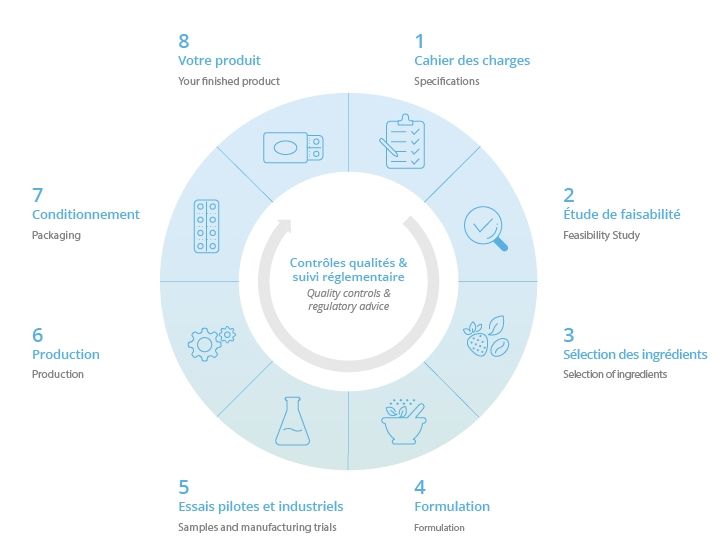 Nutritional ingredients

We provide a range of ingredients to food and dietetic products manufacturers. These ingredients are the result of our uncompromising selection and comply with the most rigorous regulations both in France and in Europe.

Quality
Being respectful of our clients also means respecting consumers who are going to consume our products. We take pride in guaranteeing high-quality products. Our requirements in terms of sourcing allow us to select the best ingredients for you.
Innovation
We develop innovative products customized to your needs. We, together with the R&D team of our laboratory partner, aim to continuously stay at the forefront of technology and trends.

Plant-based proteins
We bring you solutions for the supplementation of vegetable protein of your products. Meanwhile, we prioritize short supply chain and favor a regular presence on the cultivation and transformation sites. Our crossed analyzes ensure the traceability and the quality constancy of our products.


Fruits and fruits powders

We will be able to provide you very soon high-quality organic fruits powders. These powders are obtained by an exclusive dehydration process which allows to preserve the nutritional and organoleptic quality.